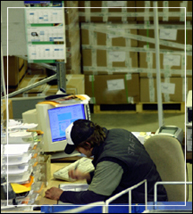 Whether you are planning an IT relocation down the hall or require your entire data center to be moved across the country, how do you make sure that your equipment is handled with the proper care and coordinated by a moving company you can trust? Why should you face this challenge alone when you can tap into the proven ITMASS network that can assist you on this next IT move. With ITMASS, we offer these one - stop shopping shipping services to assist you with your IT logistic needs.
Moving: There are many moving companies in the world, but who can you trust to move IT equipment? ITMASS only uses top moving companies. These providers are leaders in the industry and are experts in packing and delivering information technology products. Our agreements with these moving companies, allow us to share our competitive pricing with our customers while providing a safe, reliable service.
Storage: Whether you require short or long term storage to meet your IT business needs, ITMASS's networks of over 90 storage facilities can always hold your equipment in a safe and secure location. These locations are also able to transport your equipment to your desired location in a quick and efficient manner for staging projects or single shipment deliveries.
Disposal: ITMASS can efficiently coordinate the safe disposal of your pc's, laptops, phone systems, networking equipment, mainframe and mid-range equipment, printers and monitors as well as ensure that your confidential data is destroyed and documented for your auditing purposes. ITMASS will purchase this equipment from you, turning your unwanted assets into profits for your company.
---

ITMASS Offerings:
IT Shipping Services: Move IT and electronics the right way with our Custom Moving and Trucking Options, Computers and Electronics Shipping, Industrial and Corporate Relocation Services, Full Domestic and International Equipment Shipping Service, Air Ride Trucking Equipment, Packaging options including Packing and Crating, Bubble Wrap and Blanket Wrap, Custom Transportation Logistics Delivery Options include Same Day, Overnight and Economy Shipping Service, Free Freight Company Quotes and Freight Quote Options, Asset Tracking, Full Logistics Moving Company Services, Shipping Insurance options. Move IT today with ITMASS.
IT Storage Services: Over 120 Nationwide warehouse and storage facilities for Computer Equipment and Electronics, Multiple Warehousing and Storage Solutions, Equipment Packaging options including custom Packing and Crating , Storage moving, Nationwide Storage facilities staging management, Consolidation Center Services, Long Term Storage, Short Term Storage, Container Options, Multiple Pickup and Trucking Options, Redelivery Options for IT equipment and Computers, Packing and Crating, Warehouse Security, Warehouse to warehouse logistics moving, Free storage quotes.
IT Recycling / Disposal Services: Computer Disposal, Recycling, Asset tracking, Used Computer Resale, Used Equipment Resale, Used Heavy Equipment Resale, Container and Container Packing Options, Used Medical Equipment Resale, Used Printing Equipment Resale, Computer Recycling including Used Computers & Used Computer Parts, Multiple Pickup and Trucking Options, Logistic management, Asset Liquidation Services, Computer Monitor Disposal, Computer Recycling Data Wipe Services, Free Disposal Quotes.